Smart Mixing Valve to Keep You Covered & Connected
Featured Product from Watts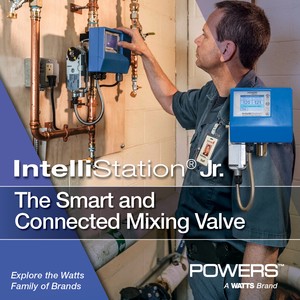 The IntelliStation Jr. is an affordable, easy-to-install smart mixing valve that connects through the Building Automation System (BAS). The digital mixing valve is passcode protected and configurable on site— so there's no need for factory pre-programming, a laptop, or special software to download for commissioning or when adjusting the valve.
Also, the IntelliStation® Jr. is self-balancing, which prevents overnight temperature creep by balancing the hot water distribution system during low- to no-demand periods.
Visit our IntelliStation® Jr. page.
IntelliStation® Jr. features:
Programmable set point range of 60°F to 180°F
Control of water temperature +/- 2°F in accordance with ASSE 1017
User-selected High and Low temperature alerts enhancing safety
Scheduling feature with temperature setback saving energy and money
Visit our IntelliStation® Jr. page.