Watts Water Softeners… No Hard Choices Here
Featured Product from Watts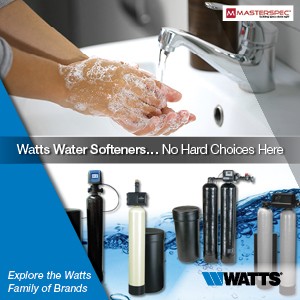 Specify Watts water softening solutions for your commercial and industrial applications. Designed for water conditioning professionals who demand the highest quality, reliability, and value, our water softeners include only top-quality components, come fully complete, and feature metered control valves for greater efficiency using trusted technology.
Download our Watts specification for Domestic Water Softeners under our Product MasterSpec button.
Though not considered unhealthy, hard water problems can end up costing homeowners money through increased soap usage, reliance on water softening products and a shorter lifespan for appliances due to scale build-up in pipes and other factors.
Other benefits of a Watts Water Softener solution to consider are:
Spot-free glassware and dishes
No mineral deposits on bathtubs or shower stalls, and showerheads stay clear of clogging
Brighter, softer laundry
Less reliance on water softening products
Dramatic reduction in soap usage
Pipes remain free of calcium scale build-up
Extended life of appliances and reduced energy costs because scale is virtually eliminated
Spot-free car wash (if softened water is used)
Reduces chlorine, tastes, odors, and organics *
Removes calcium, magnesium, and iron *

*when using a dual tank with activated carbon for pre-treatment.
If you have any questions or would like more information, please let us know!