Webinar: Commercial Rainwater Systems on 11/14
Featured Product from Watts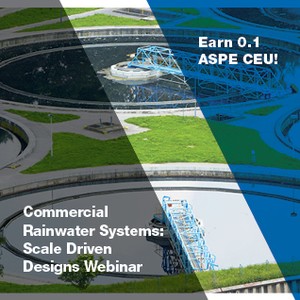 Join us for the next installment of our Watts Works Engineer Webinar Series!
Even though Rainwater is relatively pure, it does pick up pollutants as it moves through the atmosphere. In order to collect and utilize it as a renewable resource, especially in the context of commercial buildings, one must consider both the source of the rainwater and the end use to ensure the appropriate level of water filtration and treatment.
Sign up for the Commercial Rainwater Systems: Scale Driven Designs Webinar to:
Learn the basics of rainwater harvesting as a renewable resource
Discuss the possible uses for Rainwater in and out of the building
Analyze the major Rainwater pre-filter types and applications
Describe the three primary elements of a Rainwater system
Employ the appropriate inlet pre-filter type in a Rainwater system based on locale and building conditions
Identify the two most commonly applied disinfection strategies for Rainwater
Watts will host the live webinar, Commercial Rainwater Systems: Scale Driven Designs at 11am on November 14. By attending this webinar in its entirety, attendees can receive 0.1 Continuing Education Units (CEUs) through the American Society of Plumbing Engineers (ASPE).