Reduce Dynamic Bearing Forces
Service Detail from Waukesha Bearings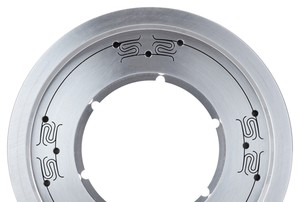 ISFD technology provides highly engineered damping and stiffness to shift critical speeds and increase the dynamic stability of the rotor/bearing system.
In the patented ISFD design, stiffness and damping are independent of each other and can be precisely controlled. This produces higher and more accurate damping capability than a conventional squeeze film damper and makes ISFD technology a leading solution for controlling vibrations.
Stiffness and damping are each optimized for the application through rigorous rotordynamic analysis.
The ISFD design, manufactured through electrical discharge machining (EDM), can integrate the bearing and damper into one unit for a space-saving solution suitable for new and retrofit installations. ISFD technology can be used with tilt pad, Flexure Pivot® tilt pad, fixed profile or rolling element bearings.
Features:
Precise stiffness and damping
Drop-in replacement without modifications to housing
Shaft-centering ability
Split configuration availability
Constant stiffness and damping over a wide range
No cavitation
Suitable for use in tilt pad bearings, fixed profile bearings and rolling element bearings
Typical Applications:
Radial turbines
Supercritical CO2 power turbines
Overhung process equipment