Hi-Amp Circuit Breakers from Eaton
Featured Product from Waytek, Inc.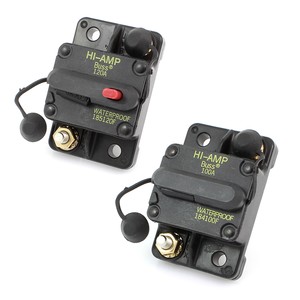 EATON's Series 184 and 185 surface mount circuit breakers provide high amperage circuit protection where panel mounting can be difficult. These surface mount circuit breakers provide a manual reset and reliable circuit protection all in one unit. With a trip-free, ignition protected SAE J1171 certified design, they are safe for installation aboard gas-powered boats and up through 150A switchable circuit breakers that protect and control heavy vehicle electrical systems. Both the 184 and 185 series have a unique mechanism that provides a visual indication when the circuit breaker is tripped.
Compliances: SAE J1625; ABYC E-11; CE; SAE J1171 (ignition protection)
Interrupt Capacity: 3000 Amps @ 30V DC
Voltage rating: 42V
Sealed to IP67

Reset Method: Type III - Manual

Reset Method: Type III - PTT (Push to Trip)