Bussmann Series Power Modules from Eaton
Featured Product from Waytek, Inc.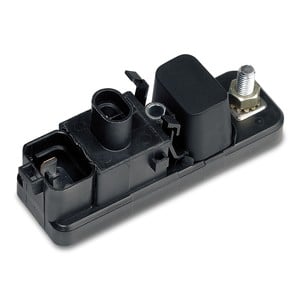 EATON 's Bussmann Series 37700 offers both a Power Relay Module (PRM) and a Power Fuse Module (PFM). Bussmann power relay and fuse modules feature a compact design for high current applications in various fields. Designed with superior sealing protection, these modules are perfect for extreme moisture and high vibration environments.
PFMs contain two JCase fuse circuits, each rated up to 60A
PRMs contain one 70A relay and holds two JCase fuses
A single JCase fuse circuit for relay protection up to 60A and a single in-line JCase fuse circuit up to 60A
PRMs and PFMs feature rugged M8 input studs
Capable of switching and protecting high current loads
Internal circuiting simplifies harnessing, reducing the overall cost
FEATURES & BENEFITS
Silicone seal and removable cover provide a weather-tight seal up to an IP66 rating
PRM rating: 70A, 12Vdc steady-state relay
PFM rating: 60A per fuse
Ignition protected to SAE 31171 specifications
*Fuses sold separately for all modules