Forward & Reverse Relay Module from Littelfuse
Featured Product from Waytek, Inc.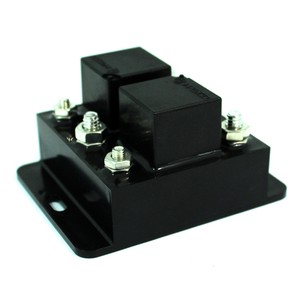 The forward and reverse relay module is ideal for tarp or lift applications. It can also be used on hoist, hatches, winches, snowplows, intake/exhaust fans, vehicle outriggers, and other reversing applications. When the appropriate control circuit is energized with a pulse it will reverse the direction of the motor.
• The module automatically reverses the direction of the motor when the appropriate control circuit is energized with a pulse from a control switch
• Dynamic braking stops the motor when the switch returns to Off
• Space-saving low-profile module
• Studs are securely anchored in epoxy
• Size: 2.91"× 3.51" × 1.86" H (73.9 × 91.7 × 47.2mm)
Features & Benefits
High-performance silver tin oxide contacts assure long cycle life.
70A at 12V DC intermittent, max on-time 5 mins; off-time 3 mins; 50A at 12V DC continuous
Vibration resistance: 10-55Hz. Double amplitude 1.5mm.
Load current inrush: 150A. Pull-in voltage 7.8V max.
Environmental: -40C to 85C. Rust and moisture-resistant plastic housing
Fully sealed to IP-67 with high strength epoxy for total moisture protection
Tin-plated brass studs and hardware for corrosion resistance
For intermittent operation, the control switch should be Mom On-Off-Mom On; for continuous operation On-Off-On