J1939 Splitters from Trombetta
Featured Product from Waytek, Inc.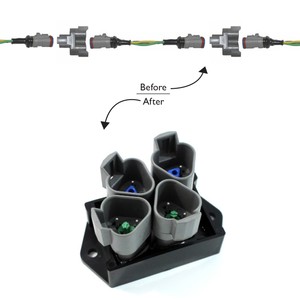 CAN bus splitters from Trombetta offer a cost-effective and space-efficient solution for connecting multiple devices to a J1939 CAN bus network. Featuring a small footprint, these splitters reduce cost by eliminating Y adapters and extra harnesses typically used to provide additional connections to the bus. The splitters use a Deutsch DT04-3P connector and are potted to maintain their true IP67 rating required in most industrial applications.
SAVE YOURSELF TIME AND MONEY WITH TROMBETTA J1939 SPLITTERS!
Long, confusing J1939 harnesses are a thing of the past. Trombetta J1939 splitters collectively power your devices and clean up your systems effectively, saving you time and money.
FEATURES & BENEFITS
• Breakout CAN signal to multiple devices
• Rugged ABS housing
• Minimizes the need for spider web harnesses
• Reduces bus connections, increasing quality and durability