Series 17 Recessed Button Circuit Breakers from MP
Featured Product from Waytek, Inc.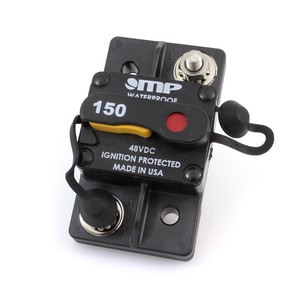 Mechanical Products has expanded their series 17 circuit breakers to meet the demands of compact spaces in vehicle compartments. These high amp circuit breakers are typically used in auxiliary and accessory circuits for emergency vehicle applications as a substitute for using high amp fuses. The recessed trip button allows manufacturers to manually trip the circuit breaker making them ideal for use in applications where access needs to be restricted to maintenance and service personnel. They also reduce the footprint of your electrical system when mounted in parallel.
• Sealed to IP67; dust and waterproof rated
• Reduces nuisance trips and potential unbalanced loads
• Features a push-button and lever that allows the user to manually trip the breaker if circuit interruption is required
• Voltage rating: up to 48V DC @ 150A & 30V DC @ 200A
• Interrupt capacity SAE J1625, ABYC-E11
• Ignition protected
• Available with 1/4" & 3/8" stainless steel terminal studs & sems nuts