Custom-Fabricated Thermal Management Materials
Featured Product from Web Seal Inc.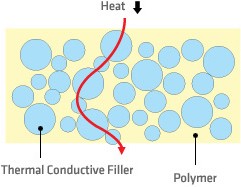 Thermal management materials, custom-fabricated by Web Seal, offer a range of features to meet your specific product needs, including self-adhesion qualities and the ability to add pressure-sensitive adhesives, which aid in ease of assembly.
Many flexible thermal management materials are designed to simplify assembly and, unlike other types of heat dissipation techniques, can be used without grease. Some are able to be used permanently without drying out, providing long-lasting heat conduction, saving time and money. Thermal management materials have a selection of physical properties:
temperature requirements, including extreme conditions
outgassing
hardness
hydrolysis
internal strength
resistance to ozone, ultraviolet and chemicals
conformity
performance range
selection of colors
Web Seal can fabricate a wide selection of materials to meet your thermal management needs:
thermal gap pads/gap fillers
thermally conductive films
thermal fabrics, woven and non-woven
One type of thermal management materials is a conductive sheet that quickly transfers heat from its source to low-temperature areas. "Hard" dissipation sheets have a standard thickness of 0.3-0.5mm, and come in durometers (Shore A) of 30, 40 and 55. They feature:
high thermal conductivity with excellent insulating properties
low siloxane content
an option for pressure-sensitive adhesives with release liner on one side
"Soft" sheets with a standard thickness of 0.5-5.0mm offer self-adhesion, low hardness and high incombustibility. "Super Soft" types have excellent self-adhesion properties and ultra-low hardness.
Fiberglass-reinforced heat dissipation sheets are ideal for areas requiring high tensile strength. They also feature excellent insulation and high thermal conductivity, typically with a standard thickness of 0.3-1.0mm.