Custom Die Cuts - WebSeal
Featured Product from Web Seal Inc.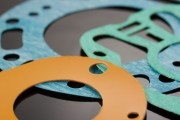 Web Seal fabricates custom gaskets and other die-cut products tailored for your unique design requirements. Upload your drawings or blueprints or request our free design and engineering assistance.
On occasion, Web Seal make "house calls," such as dispatching a team to a customer site where we hand cut larger-than-life gaskets for a power generation facility.
Over the years, they have even die-cut a variety of non-sealing products for customers -- from tree ornaments and table favors to game pieces.
Material Selection
A wide variety of materials can be fabricated into gaskets, including cork, rubber, foam, EMI/RFI, shims and Teflon™.
Tooling Types

Compound Dies
Hybrid Dies
Steel-Rule Dies

Manufacturing Processes
Steel-Rule Die Cut
Lathe Cut
Laser Cut
Water-Jet Cut