Fool-Proof Press-In-Place Seals from Parker
Featured Product from Web Seal Inc.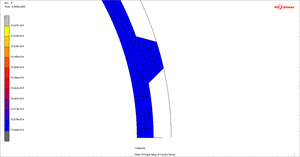 PiP nibs create an interference between the seal and the groove wall that eliminates the needs for adhesives. The design allows for a more serviceable seal, as well as offering you more convenience in installation of the seal.
A major benefit of PiP seal technology is that it does not use molds, which also avoids voids, flash and parting lines that can create problems with the seals. The seal maintains its typical cross section upon compression, so the wider contact surface compensates for imperfections in cast or stamped mating components.
Web Seal can help you create a custom PiP seal for your application, with a wide choice of sealing grade materials and sizes. To ensure adequate seal performance across tolerance ranges, FEA simulations can also be performed in the design stage.