GYLON EPIX™ Series Transforms PTFE Gasketing
Featured Product from Web Seal Inc.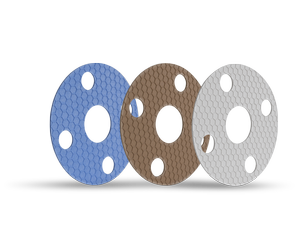 In testing scenarios, traditional GYLON® gaskets show heavier loading near and around bolt holes with lighter loading farther from the holes. However, the redesigned synthetic fluoropolymer GYLON EPIX™'clearly redistributes the load, preventing low loading.
Having evolved from Garlock's original GYLON® product line, GYLON EPIX™ combines its distinctive new features with all the advantages of its parent product. Developed in 1967, GYLON® gaskets quickly became an industry standard. With today's increasing demands for environmental safety and cost savings, GYLON EPIX™ is the new standard for the next generation of gasketing materials.
GYLON EPIX™ :
Retains all of the excellent chemical resistance characteristics of the original GYLON®, thereby eliminating the need to re-qualify products
Substantially reduces emissions
Minimizes creep and cold flow
Reduces the need for stocking multiple thicknesses, eliminating incorrect gasket sizes and driving down inventory costs
Being highly conformable, is suitable for a broader range of sealing applications, especially where there are uneven, pitted or irregular surfaces
GYLON EPIX™ sheet material comes in one optimum thickness: 3/32" (2.4mm). Its unique hexagonal design provides the seal performance and load retention of a thin gasket (1/16") with the improved compressibility of a thicker one (1/8"), effectively having one seal doing the work of two.
Web Seal offers custom gaskets from three high-performance styles of GYLON EPIX™:
3500 EPX

Fawn color
Silica-filled PTFE
Designed for extended service with aggressive media
Applications include strong acids, chlorine, cryogenics, hydrocarbons, steam, and water

3504 EPX

Blue color
Aluminosilicate miscrosphere-filled PTFE
Applications also include hydrogen peroxide, moderate concentrations of caustics and acids, refrigerants, cryogenics, hydrocarbons and water

3510 EPX

Off-white color
Barium-filled PTFE
Designed for applications with critical installation requirements and maintenance of an extremely tight seal
Applications include aluminum fluoride, moderate acids, strong caustics, chlorine, cryogenics, gases, hydrocarbons, monomers, and steam
Who We AreAn ISO 9001:2015 company, Web Seal has been providing solutions for sealing challenges for more than 58 years.

As a full-service fabricator of die-cut parts and a distributor of industrial sealing components, we source our materials and products globally.

Web Seal can also offer:
state-of-the-art die-cutting equipment
rapid turnaround on prototypes
vendor managed inventory (VMI) programs
We are a privately held corporation located in upstate New York, halfway between two of the state's major attractions -- Niagara Falls at the Canadian border and the wine country of the Finger Lakes. Our facilities in downtown Rochester are located just off major expressways.