Gaskets For A Wide Range of Environments
Featured Product from Web Seal Inc.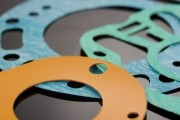 Web Seal - Another type of static seal highly useful in a wide range of environments is a gasket. These flat mechanical seals are commonly used to prevent leakage between two flanges while under compression.
Web Seal offers gaskets in sizes from 0.25 inch to 10 feet.
Low-volume to high-volume runs.
Many applications lend themselves to a custom cut shape that accomplish precise sealing, packaging or placement needed by your component or equipment.
Advantages: Ability to withstand high compressive loads (2000 psi or higher)
Nearly unlimited range of materials.
Unlimited variety of standard and custom shapes to fit any application.