Parker ProTech™ Bearing Isolator
Featured Product from Web Seal Inc.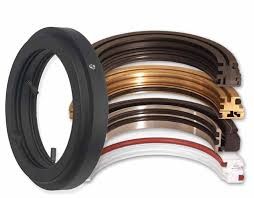 Featuring a unique labyrinth design, Parker ProTech™ Bearing Isolator provides unmatched two-way sealing for both zero lubricant leakage and total exclusion of contaminants. Its advanced proprietary PTFE compounds make ProTech™ well-suited for caustic, high-speed, and high-temperature environments. Superior chemical resistance allows for standardizing a single material in your plant.
When improving the mean time between failure (MTBF) is critical, ProTech™ bearing isolator seals offer an ideal sealing solution. Its unitized construction provides one-piece cartridge installation. Relying on true non-contact labyrinth seal technology to provide 100% exclusion of contaminants and 100% retention of bearing lubrication for the life of the bearing means it does not have to depend on just the standard internal single O-ring for sealing. A variety of standard and custom labyrinth design profiles are available to allow for ease of retrofitting most equipment.
ProTech™ has been independently tested to IEEE IP55, IP56, IP66 and IP69k.
ProTech™ bearing isolators provide quality and performance from Parker, the innovation leader in bearing isolator technology. The ProTech™ isolators are manufactured under tight control from raw materials through the finished product, using only top quality PTFE resins, a sophisticated system for controlling the critical sintering process, and specialized CNC production equipment. Application support from Web Seal and Parker gives you confidence that the proper isolator for the equipment and application is supplied.