ProTech™ Bearing Isolators
Featured Product from Web Seal Inc.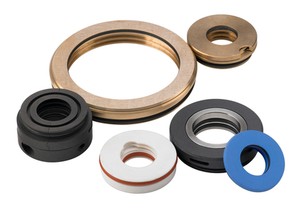 Download Parker ProTech™ Bearing Isolator Brochure (PDF)
Using advanced proprietary PTFE compounds, Parker's ProTech™ Bearing Isolator is well-suited for caustic, high-speed, and high-temperature environments, making it ideal for food processing applications. The design also features a complete wrap-around rotor, severe splash oil grooves, and a hybrid isolator for flooded applications.
When improving the mean time between failure (MTBF) is critical, ProTech bearing isolator seals offer an ideal sealing solution. Unitized construction provides one-piece cartridge installation. Non-contact labyrinth seal technology provides 100% exclusion of contaminants and 100% retention of bearing lubrication for the life of the bearing. That means it does not have to depend on just the standard internal single O-ring for sealing used in other isolators.
Due to the patented labyrinth design, ProTech isolator seals can run dry, eliminating the need for lubrication. ProTech accommodates maximum axial movement and operates far beyond shaft speed limits of standard radial lip seals. The ProTech isolators have been independently tested to IEEE IP55, IP56, IP66 and IP69k. A variety of standard and custom labyrinth design profiles are available to allow for ease of retrofitting most equipment. The same ProTech isolator is also available in a bronze version.
ProTech™ bearing isolators provide quality and performance from Parker, the innovation leader in bearing isolator technology. The ProTech isolators are manufactured under tight control from raw materials through the finished product, using only top quality PTFE resins, a sophisticated system for controlling the critical sintering process, and specialized CNC production equipment.
The ProTech bearing isolator is particularly beneficial for small disposable motors and equipment for food processing applications, and for 140 and 180 frame motors and other high volume OEM equipment requiring wash down protection.
Licensing for this image came with permission from the Parker Hannifin Media Manager collection