Chain and Slat Conveyors
Product Announcement from Webb-Stiles Company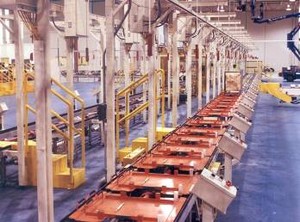 Webb-Stiles manufactures a wide range of Chain and Slat Conveyors. Most of these are specially engineered to meet the customers' handling requirements. These conveyors can be for assembling light appliance components or handling the heaviest steel plates made in the world. Contact your Webb-Stiles Sales Engineer to assist you in the correct selection of a chain or slat conveyor application.
Examples include:
Appliance assembly line using twin strand chain conveyor
High roller twin strand chain Conveyor sorting system
Slat conveyor with fixturing. For sub-assembly work
Massive slat conveyor for handling steel plate. Can move up or down and in or out.
---