Customer-provided drives
Featured Product from Weber Screwdriving Systems, Inc.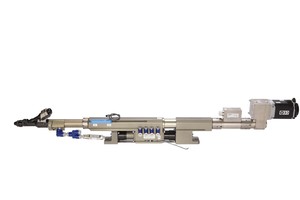 Vacuum Fixtured Screwdriver SEV
Screwdriving technology for hard to reach screwdriving locations
The Weber SEV Fixtured systems feature a highly reliable and rugged design which is the standard within the industry for fixed spindles. These units are for use on a single stage application or when a robot or other slide will bring the driver spindle closer to the work pieces for installation of the fastener. The special Vacuum nosepiece and Vacuum bit can be instructed to self advance its bit stroke device and install fastener while detecting that the depth was achieved or not. When the start signal is given usually through a PLC control system to a solenoid valve the vacuum bit advances forward out of the jaws to expose the bit and fastener . This proven design can get into access location normally unachievable by conventional means, and allows fasteners to be installed down into deep recesses. Only the legendary Weber reputation of reliability could provide this level of technical solution. Customization is performed on most systems to ensure the utmost functionality for each fastener size and style. This device can accommodate almost any style of Pneumatic or Electric motor drives and can be used singly or in multiples for more complex fastening . They can be used at any angle and even upside down for those difficult inverted applications., and these are often fitted with sensors to provide input to a PLC for control or reporting functions.
Customer-provided drives
The open system of the fixtured automatic screwdriving system SEV allows you to integrate customer-provided drives. This makes it easy to integrate the SEV in existing assembly lines with existing drives and controllers. Subsequent conversion to WEBER components is possible at any time.
Features:
With automatic feed system
Compact design due to parallel arrangement of screwdriver- and head stroke or optional application of an inverse drive adapter
Less moving mass the internal drive stroke allows fixed drive and transducer modules resulting in a lower chance of cable damage through repetetive motion
High durability through wear-resistant surfaces, even with lack of lubrication (low oil operation)
Modular design for easy retrofit to other modules / drives
- Pneumatic power drive with friction- or shut -off clutch
- Electric controlled drives and sensors for torque and angle control
- Electric controlled drives with torque control via current measurement
- Optional customer supplied drive unit
Optional redundant sensors (VDI/VDE 2862 Page 1/Category A Danger to life and physical well being)


Watch>>>WEBER 60th Anniversary
WEBER Screwdriving Systems Inc.
Since 1956, WEBER has been designing and building various solutions for tough and demanding application needs in the assembly industry. We have vast experience manufacturing custom made automatic feed equipment to handle all kinds of mechanical fasteners including screws, nuts, pins, rivets, clips, plastic inserts and set screws. We have demonstrated our creativity and motivation which has continuously kept our standards high. For our customers this means custom designed and engineered systems of the highest possible quality. Even today we constantly push for a better way, and frequently we come up with solutions that all of our competitors have yet to even consider. WEBER... leading the way!