Fixtured Screwdriving Systems
Featured Product from Weber Screwdriving Systems, Inc.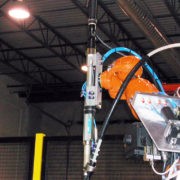 The basis for this industry leading technology is the unique feed head design of our screwdriving systems. WEBER was the first and, to date, remains one of the few manufacturers in the industry to incorporate a swivel screw feed arm directly into the feed head. The swivel arm holds the next fastener in place, ready to be driven. This method eliminates the time spent waiting for the next fastener to travel all the way from the feed system, naturally reducing the cycle time by an average of 2 to 3 seconds. WEBER's "Feed while you drive" technology has proven to significantly increase production capability and thereby improving the customer's bottom line.