3.81mm PCB Connectors Offer Design Freedom
Product Announcement from Weidmuller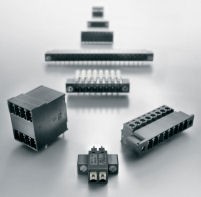 Weidmuller has extended their line of printed circuit board connectors in 3.81mm pitch. The 3.81mm connectors are designed to provide the maximum degree of freedom for the design of signal terminations on the printed circuit board.
The enhanced 3.81mm connector series complement Weidmuller's well-established 3.50mm range and include enhancements in compatibility, performance and efficiency. The connectors are 100% interchangeable to the industry standard and suitable for all applications including wire-to-board, board-to-wire, wire-to-wire and board-to-board. Their compact size and increased current carrying capacity allows users to use less space and connect more power at a printed circuit board.
The 3.81mm series also offers users:
A range of features designed to save on installation time and reduce costs
Plugs with Push-In clamping technology to reduce wiring time up to 70% over traditional screw terminations
Connectors with optional release levers to ensure the wires are not pulled out inadvertently when the connector is unplugged. This feature greatly reduces the risk of damage to the wire and ensures the integrity of the installation.
Improved efficiency, available in high temperature material (Liquid Crystal Polymer UL 94 V-0) for reflow soldering applications
Tape-on-reel packaging for automated pick and place machines
A wide range of poles, from 2 to 16, in standard configurations
Several colors including black, orange, and green
RoHS compliant and have UL approval
About Weidmuller:
Weidmuller is the leading provider of solutions for the transmission of power, data and control signals in industrial environments. The company develops, produces and sells industrial electronics, network infrastructure components and connectivity solutions such as Wireless Solutions, Industrial Ethernet, Relays, Power Supplies, I/O modules, printed circuit board connectors, terminal blocks and complete DIN Rail assemblies. The Weidmuller group has a strong international focus with manufacturing and sales locations in over 70 countries.
---