BLF Series Pluggable PCB Connectors
Product Announcement from Weidmuller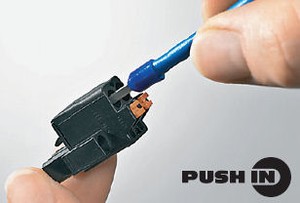 Weidmuller brings their timesaving push-in termination technology to a new line of pluggable PCB connectors - the BLF Series. These new, push-in connector plugs provide fast and easy tool-free termination, with only a 20% reduction in wire pull out force when compared with screw clamping termination. The BLF plugs, available in 5.00mm and 5.08mm pitches, allow users the flexibility of using solid, stranded or ferruled wires, further reducing their installation time and costs.
Weidmuller's BLF plugs include a number of features designed to increase process safety and overall versatility, including:
Enlarged wire entries that provide a clamping range of up to 2.5mm2 to accommodate wire ferrules with plastic collars and meet minimum creepage requirements
Push-in termination that is easy to make with the user-friendly push buttons that ensure safe and simple wiring
Availability of multiple, too-less locking and releasing options to reduce the strain on the PCB when releasing the connector in the field
Integrated test points that offer fast manual diagnosis for on-the-spot troubleshooting
UL rated for 300V, 20A and wire sizes of 26-12 AWG
The expansion of Weidmuller's line of signal connectors that include leaf spring, clamping yoke, tension clamp, TOP and crimp termination systems
About Weidmuller:
Weidmuller is the leading provider of solutions for the transmission of power, data and control signals in industrial environments. The company develops, produces and sells industrial electronics, network infrastructure components and connectivity solutions such as Wireless Solutions, Industrial Ethernet, Relays, Power Supplies, I/O modules, printed circuit board connectors, terminal blocks and complete DIN Rail assemblies. The Weidmuller group has a strong international focus with manufacturing and sales locations in over 70 countries.
---