BL I/O 3.5mm Connector System
Product Announcement from Weidmuller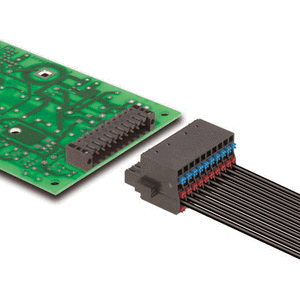 Connector with Integrated LED and Cross Connection Saves Space
Weidmuller announces the BL I/O 3.5mm connector system for use in connecting sensors in automation environments. The unique design provides significant manufacturing cost as well as space savings by incorporating multiple functions into the connector. Designed for production automation applications, the BL I/O is ideal for connecting sensors in decentralized I/O configurations.
The unique design incorporates indicator LED's into the plug and provides visual confirmation that the sensor has been properly wired even without downstream electronic signals being present. The integrated cross connection distributes power for up to 8 I/O sensors and provides the flexibility to power the system from the board connection or an external power supply. Incorporating the indicator LED's and power connections reduces the layer count and complexity required on the printed circuit board, providing a lower manufacturing cost.
The BL I/O provides space savings in multiple ways. The dual row 3.5mm contact spacing provides superior density, offering a significant space savings over even 2.54mm products. To further improve density, the BL I/O is available with offset screw flanges, to reduce the amount of clearance required between plugs. Less panel space is required for the application, allowing for true miniaturization.
The BL I/O is offered in time saving PUSH IN spring connection technology. Offset or standard configuration screw flanges are available as well as the easy to use lock and release lever. Board mounted headers are available in both standard as well as SMT process compatible THR for even greater manufacturing cost savings.
Weidmuller is the leading provider of solutions for the transmission of power, data and control signals in industrial environments. The company develops, produces and sells industrial electronics, network infrastructure components and connectivity solutions such as Wireless Solutions, Industrial Ethernet, Relays, Power Supplies, I/O modules, printed circuit board connectors, terminal blocks and complete DIN Rail assemblies. The Weidmuller group has a strong international focus with manufacturing and sales locations in over 70 countries.
---