LSF-SMT Push-in PCB Terminals
Product Announcement from Weidmuller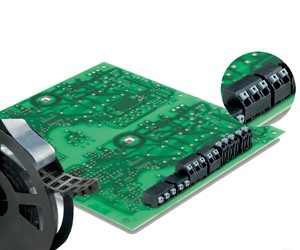 Designed to reduce wiring time by up to 50% compared with leaf-spring terminals, the LSF-SMT push-in direct connection terminals provide a safe and reliable connection for a wide range of applications, including SMT/THR (Through Hole Reflow), and are in full compliance with ROHS regulations.
These new terminals feature a spring-action release button in the direction of the wire connection that opens the clamp for inserting flexible wires. Solid core wires, once stripped of insulation, are simply inserted into the terminal point until it hits the stop - no tools are required to make the connection.
The LSF-SMT push-in direct connection system is based on the pressure spring principle; the spring for the wire connection is in a separate cage. This design reliably separates the mechanical and electrical functions, and provides greater wire retention. The pressure spring is protected by a stop that restricts spring excursion, while the cable entry design prevents incorrect insertion of the wire. The push-in direction connection technology ensures a reliable, vibration-resistant and gas-tight connection.
The LSF-SMT terminals are equipped with two soldering pins that provide a reliable connection to the printed circuit board. Users have a choice of 1.5mm or 3.5mm pin lengths. The contact and soldering zone surfaces of the pins are made from pure tin. For lead-free soldering applications, they comply with Class IV specification in accordance with DIN 45598: 260ºC - 280ºC for soldering alloys SnAg and SnCu.
In addition, the LSF-SMT push-in terminals are made from Liquid Crystal Polymer with fiberglass reinforcement, and are heat-resistant and halogen-free. This provides dimensional stability, making them ideal for use in reflow and wave soldering processes.
Weidmuller's new LSF-SMT terminals are available in 3.5/3.81, 5.00/5.08 and 7.50/7.62 mm pitches, with horizontal (90º), vertical (180º), and 135º wire entry angles. Poles range from 2 to 8 or 24 poles (3.5/3.81mm). They are available in tape-on-reel packaging for ease-of-use in SMT reflow soldering processes.
---