PLC Interface Cabling Solutions
Product Announcement from Weidmuller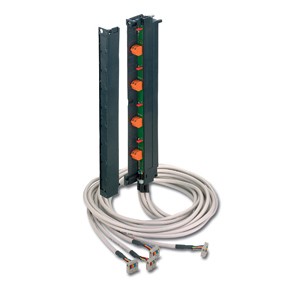 This system plugs directly into the PLC I/O cards for quick and easy I/O signal termination, saving users time and money, as well as eliminating the potential of incorrect wiring.
Weidmuller's pre-assembled specific Interface cables and modules are available for the most common industrial PLCs and Micro PLCs from all major manufacturers including Rockwell, Siemens, GE Fanuc, Telemecanique, Omron and ABB.
The new line features several connector styles to accommodate the choice and type of signals to connect to the PLC Interface boards. For standard digital signals, fully protected flat connectors are available. These feature housing and strain relief to protect against pull forces, and provide polarized and secure connections. A shielded Sub-D connector (15, 25 or 37 pole options) with shielded 24 AWG cabling is offered to properly protect and transmit sensitive analog signals. Industrial connectors rated up to 250V and 8A are available for higher voltage signals.
The portfolio of PLC Interface boards includes 40 passive boards, 15 relay boards for digital signals, and over 15 boards for analog signals. The Interface boards for digital inputs and outputs include standard voltage versions in 4, 8, 12, 16 and 32 channels, and a choice of screw or tension clamp connections. Boards in 8, 16 and 32 channels are available for higher voltage applications. Analog boards are offered in 4, 8, 9 and 16 channels. Users can choose from a variety of features including per channel LED indication, integrated fuse versions, interruptible channels for manual PLC signal switching, and special boards with force function for manual relay contact switching. Boards in 1, 2 or 3-wire systems are also available, eliminating the need and space for additional terminal blocks.
To help users easily select the correct products for their application, Weidmuller provides an electronic PLC Selection Guide. This intuitive selection tool can help customers identify and select the appropriate preassembled cables and modules, and view the related technical data. This easy-to-use tool is available for download at www.weidmuller.com or can be ordered on CD-ROM.
---