SL SMarT® Modular Connector System
Product Announcement from Weidmuller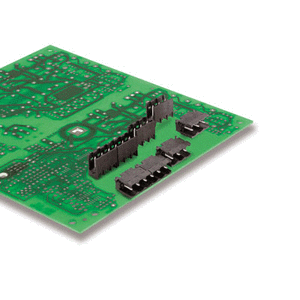 Weidmuller's new SL SMarT® board mounted header system utilizes modular components to provide optimum in cost and flexibility. Compatible for use in 5.00mm and 5.08mm contact spacing applications, the SL SMarT® system consists of two and three pole units that, when placed on the printed circuit board, can be stacked side by side to provide the right number of contacts for any application. Available in vertical and right angle orientations, both incorporate patented alignment features. These features, unique to the SL SMarT®, insure the modules remain properly positioned during processing, thus maximizing quality.
The system provides significant cost savings in both processing as well as supply chain aspects. Modules are fully compatible with lead free reflow temperature profiles. Flat surfaces are incorporated into the modules, for use with high speed pick and place nozzles. No additional pick up caps are required. Tape and reel packaging further optimizes the SL SMarT for high speed assembly, eliminating the need for hand placement and additional soldering operations. The modular 2 and 3 pole design means that only two part numbers are required to populate even the most complex boards.
Weidmuller is the leading provider of solutions for the transmission of power, data and control signals in industrial environments. The company develops, produces and sells industrial electronics, network infrastructure components and connectivity solutions such as Wireless Solutions, Industrial Ethernet, Relays, Power Supplies, I/O modules, printed circuit board connectors, terminal blocks and complete DIN Rail assemblies. The Weidmuller group has a strong international focus with manufacturing and sales locations in over 70 countries.
---