"Wireless in a Box" - Ethernet or I/O Enclosures
Product Announcement from Weidmuller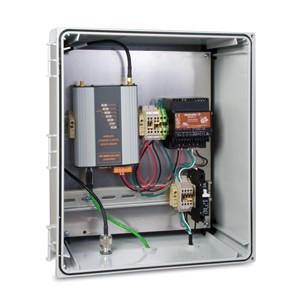 Both "Wireless in a Box" solutions are designed to provide complete wireless connectivity for remote monitoring and sensing applications. They are NEMA 4X and IP67 rated, making them suitable for applications such as water wastewater, pumping stations and tank farms.
The Ethernet solution is available in either a stainless steel or plastic enclosure, and features a Weidmuller wireless Ethernet (WiFi) 2.4Ghz modem, which can function as an access point, bridge, client or router. In addition to the modem technology, the enclosure comes complete with the following components: power supply, circuit protection, surge protection, terminal blocks, ground blocks, antenna, antenna connection cables and through panel cable glands. This complete, preassembled solution provides all the necessary elements a for a remote wireless Ethernet installation.
The I/O version of "Wireless in a Box" is comprised of two pre-assembled plastic enclosures. Each enclosure contains a power supply, circuit protection, surge protection, antenna, antenna connection cables and terminal blocks. In addition to these components, one enclosure houses a transmitter, and the second enclosure houses a receiver. The transmitter and receiver operate on 900Mhz radio bands, and are preconfigured to send and receive multiple I/O signals. The "Wireless in a Box" I/O solution can transmit and receive two digital signals and one analog signal over a range of several miles. This self-contained solution is designed for quick and easy set-up. The pre-installed terminals make I/O and power connections fast and easy, for "right of the box" operation.
"With just one part number, you can have a complete and proven wireless solution, without the complication and time it often takes to set up a wireless system," says Weidmuller's Portfolio Manager, Tobin Robertson.
---