Fabricated Tubes, Sleeves and Housings
Service Detail from Weiss Industries, Inc.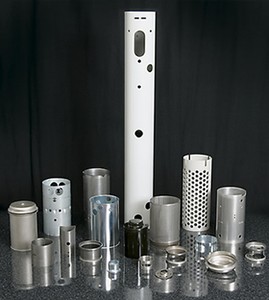 Weiss Industries is proficient at producing light gauge cylindrical components such as fabricated tubes, housings, sleeves and bushings. Products are available in prototype through high volume production quantities.
Weiss Industries works with both coil and sheet steel (plain or perforated) or from cut-to-length tubing or blanks. Wall thickness capability ranges from approximately .38mm/.015" through 2.28mm/.090". Seams can be open or welded by MIG, TIG, plasma, laser or resistance methods. Mechanical locking and other joining methods are also available.
Applications
Pump bodies
Sonar devices
Filter housings
Vibration isolators
Small tank bodies
Food service devices
Exhaust and catalytic products
Short to medium run motor housings
Other light gage metal housings, or shells
Diameter (ID or OD) 1-7/8" to 13" +/- .010"
or better
Length (of finished part): 3" x 37" +/- .010"
without secondary operation
Materials
Carbon steels
Stainless steels
Precoated steels
Some non-ferrous metals*
---