Custom Teflon Thermoforming
Service Detail from Welch Fluorocarbon, Inc.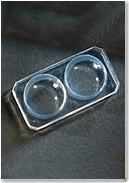 Thermoforming is a generic term that encompasses a variety of methods for producing three-dimensional parts from flat sheets of film. With the knowledge of thin high performance films, combined with thermoforming expertise the results are impressive. Different configurations are possible to create complex shapes including the option of joining thermoformed parts via heat sealing.
Thermoformed Solutions
Releaseability – mold liners
Chemical Inertness – pump diaphragms and diaphragm liners provide corrosion resistance
Dry Lubrication – peristaltic pump rollers
Dielectric Properties – implantable medical device capacitor insulation
Temperature Resistance – labware including sampling apparatus covers, containers, and petri dishes
Thermoforming has some unique advantages over other methods of processing plastics:
Low tooling costs
Prototype speed
Parts with very small thickness to area ratios can be fabricated.
Welch Fluorocarbon specializes in the traditional thermoforming techniques of drape forming and vacuum forming. When they combine or thermoforming expertise with their knowledge of thin high performance films, the results are impressive.
Welch Fluorocarbon, Inc. has years of experience in forming Teflon® FEP Film & Teflon® PFA Film, Aclar® & Clarus® PCTFE, Tefzel® ETFE, Kapton® PI, Norton® ECTFE from Halar® resin, PEEK, Ultem® PEI and Polysulfone PSU.
FILM THICKNESS: (Before forming) from .003" to .125"
MACHINE CAPACITY: 18" x 18" sheet
MOLDS & TOOLING: engineered with customer and built by RTD Technologies (A leader in custom thermoforming tooling) to insure maximum Quality Control in prototype and production stages. Give them a finished part drawing and they will do the rest.
ENGINEERING: their technical service team will guide you through all phases of design to insure the proper product selection for each end use. They are capable of working in most common CAD drawing formats.
ALL INQUIRIES for prototypes and production quantities welcome. In the event that thermoforming is not the most desirable technique for solving your problem, unique processes and/or equipment can be fabricated to produce the product required.
CLIENT CONFIDENCE is maintained at the highest level for all customers operating in proprietary or competitive industries.
TRACEABILITY for medical or other critical end uses is available upon request at no extra expense. SUPPORT: Mold Design Mold Fabrication Development Service Prototype & Production quantity
---