Simulation Chambers Made With Teflon® Film
Product Announcement from Welch Fluorocarbon, Inc.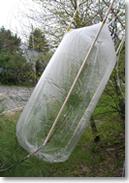 Welch Fluorocarbon designs and manufactures to order any size Simulation Chamber made with Teflon® film, Reactor made with Teflon® film, Smog Chamber made with Teflon® film, or Irradiation Chambers made with Teflon® film in our in-house manufacturing facility located in Dover, New Hampshire. Every chamber is made in the USA.
Our Chambers made with Teflon® film are ideal for applications that involve sunlight as photochemical reactors, to be used to study systems of natural transformation chemistry of pollutants. These chambers can be used for studying chemical systems that are part of the real photochemical phenomena that occur within the atmosphere because Teflon® FEP film allows ultraviolet and visible regions of sunlight to react with the chemical components in the chamber. The film's transmission in the UV and visible regions of the solar spectrum is excellent and has only a few absorption bands in the IR (property necessary to reduce the "greenhouse effect" inside the chamber). It has very low permeability for most chemical species and can be heat-sealed to form large durable panels.
Developed NASA Specifications for Heat Sealing
Welch Fluorocarbon developed specifications for NASA to use for every flight bound heat sealed product. All heat seals are made on state of the art thermal impulse heat sealing equipment, designed and built by our own engineers. This insures the optimal seal strength and minimum shrinkage along the weld. With over 25 years of experience the standard 1/8" seal width has proven to be a winner.
We recommend the following fluoropolymers film choice for simulation chambers:

- DuPont Teflon® PFA, Type LP Film
---