Teflon® Beaker Liners
Product Announcement from Welch Fluorocarbon, Inc.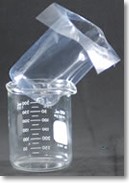 Teflon® Beaker Liners - Alternative To Glass Labware
Laboratory analysists are recognizing the utility of Beaker Liners made with Teflon® film, as a stand-alone alternative to glassware. Beaker Liners made with Teflon® film are better then Pyrex® (borosilicate) glass, because will not break and is less contaminating.
Welch's Beaker Liners Are Made With Teflon® FEP Film
These chemically inert, non-stick, electrically insulated, and temperature resistant Teflon® FEP Beaker Liners provide the following unique benefits over traditional glassware:
Non-stick and adhesion resistant for easy cleaning
Non-porous with a smooth surface
Transparent
Chemically inert surfaces
Smaller sample-to-container weight ratios for accurate measurments
Unsurpassed archival abilities avoiding sample loss and container deterioration
Pliable and unbreakable
Extreme temperature resistance
Resists all chemicals except molten alkali metals and fluorine
Beaker Liners made with Teflon® film can be produced to specific dimensions, upholding tolerances required as a liner or stand-alone device.
---