Assembly
Service Detail from Weldon Solutions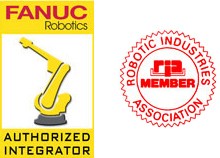 Weldon assembly robots have expanded production capabilities in the manufacturing world. The assembly process is faster, more efficient and precise than ever before.
End of arm tooling can be customized for each assembly robot to fit any assembly needs. Robots have saved workers from tedious and dull assembly line jobs, while increasing production and savings in the process.
Weldon Solutions is an Authorized System Integrator for FANUC Robotics, North America's leading supplier of robotic automation. Weldon is also a FANUC Vision System Integrator, providing the ultimate in automation versatility. We offer a wide range of cost-effective and flexible robotic solutions to meet a variety of industrial automation needs. FANUC high performance robots, coupled with our project management, innovative systems engineering, customer service, and extensive industry experience have enabled us to successfully automate a variety of applications across several industries.
Weldon Solutions is also a member of the Robotic Industries Association. Founded in 1974, RIA is the only trade group in North America organized specifically to serve the robotics industry. Member companies include leading robot manufacturers, users, system integrators, component suppliers, research groups, and consulting firms.
Call today and find out how your company can profit from Weldon Solutions' assembly expertise! 717.846.4000