Variable Displacement Hydraulic Axial Piston Pumps
Product Announcement from White Drive Products, Inc.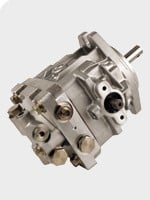 Suited for lawn and garden and under 50 hp construction, the KP 101 series variable displacement axial piston pumps are complimentary to our hydraulic motors and offer continuous minimum and maximum speeds of 600 and 3,600 rpm, respectively.
With pressure ratings that are comparable to competitive product offerings, the KP also includes industry standardized mounting flanges and incorporates White Drive Products' Shock Reduction Technology (SRT).
FEATURES:
Quiet Operation
Cooling Fins Help Dissipate Heat
High Volume Charge Pump Creates Additional Flow Through the Case Drain, Flushing Hot Oil from the Pump
SPECIFICATIONS:
Displacements: .62-1.10 cid (10-18 cc)
Max Cont. Pressure: 1,425 psi (98 bar)
Max Speed: 3,600 rpm
Min Speed: 600 rpm
---