Solid carbide thread mills - WhizThrill
Featured Product from WhizCut of Sweden AB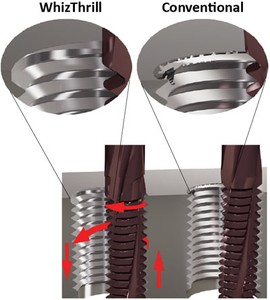 WhizThrill is not a traditional style solid carbide thread mill. Many of the different styles have unique geometries which are very favourable for the tool user.
Some of the advantages are:
The WhizThrill can deburr the thread entrance without having to make a chamfer.
Wide range of special thread types eg. NPT, NPTF and Whitworth.
Range from M1-M42, 0,4-4 mm pitch.
Coolant through available, both straight and radial.
Micro grain Carbide.
Special TiAlCN PVD Coating for best surface finish and maximum tool life for regular Thread Mills and an AlCrN coating for extra edge sharpness for micro Thread Mills.
Close tolerances on thread profile.
Easy to use programming guide for the most effective programming.
Tapered end mill for NPT and NPTF.
Double Deburr available. Contact a WhizCut distributor for a quote.
DOUBLE DEBURR - are you thread milling a through hole and getting problems with burrs on both sides?WhizCut produces double deburring thread mills, where both sides are deburred in the normal thread milling process. The important aspect to keep in mind is that this is most likely a special as we need to know the exact length of the thread.