Water Cooled Clutches and Brakes - AquaMaKKs
Product Announcement from Wichita Clutch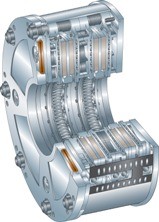 AquaMaKKs Water Cooled Clutches and Brakes
Air, hydraulic, or spring set actuated and water cooled design, featuring copper wear plates optimized for heavy-duty continuous slip tension applications.

AquaMaKKs™ consist of a series of alternating friction discs and water jackets. Torque is transmitted by applying axial force from the pneumatic, hydraulic, or spring set actuator. Copper wear plates are used for excellent heat dissipation.

AquaMaKKs provides accurate torque control for constant tensioning and are perfectly suited for applications in oil and gas, metal processing and forming, forestry, and marine deck machinery.

Design Benefits
Simplicity of design with fewer parts simplifies installation and maintainability, saving both time and money.
The standard AquaMaKKs design incorporates premium materials and finishes suitable for marine deck environments. No optional salt water corrosion protection is required.
Shim design makes it easy to maintain and adjust for wear.
Unique patent pending water jacket design ensures high heat absorption and torque stability, allowing for greater heat dissipation over similar sized competitive units.
Unique mounting pattern enables direct replacement to Wichita or competitors' units, requiring no design changes for the customer.
AquaMaKKs is a perfect solution for field retrofits, rebuilds or new OEM applications.
---