Vibration Sensor... Displacement Transducer
Featured Product from Wilcoxon Sensing Technologies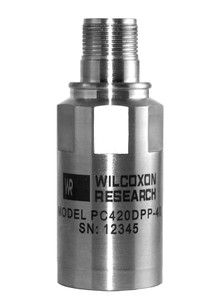 Wilcoxon Sensing Technologies, the makers of the industry leading Wilcoxon Research accelerometers and vibration accessories, announces the addition of a displacement sensor to its popular PC420 Series of 4-20 mA vibration sensors. The PC420D is the first IEPE displacement transducer and 4-20 mA vibration transmitter packaged as a single sensor.
Plant personnel often want to know the amount of "mils" at which a machine is operating, because "mils" is readily understood. Existing displacement-type sensors, such as eddy current probes that measure shaft position, do not determine the level of machine vibration so Meggitt designed a displacement sensor specifically to meet this need.
The PC420D is ideal for condition based monitoring and predictive maintenance of motors in the speed (frequency) range of 300 rpm to 60,000 rpm (5 Hz to 1,000 Hz).
The PC420D can be widely used to monitor balance of plant instrumentation to significantly reduce failure rates in the field such as:
pump motors
blowers
fan motors
compressor motors and
a wide variety of machine tool drive motors
Motors within the above speed range are frequently found in industries such as:
Pulp and paper
Nuclear power
Power generation
Petrochemical
Oil and gas
Food and beverage
Pharmaceuticals
Railway
Steel making
Wastewater treatment
Wilcoxon Research series of 4-20 mA sensors monitors rotating equipment and outputs a real time 4-20 mA signal proportional to the vibration level. By trending this real time data, plant personnel are able to schedule preventative maintenance activities around planned downtime, saving time and money in costly unexpected repairs.
The PC420D outputs a 4-20 mA signal based on the displacement level of the machine vibration. The 4-20 mA output is determined by first measuring the peak to peak vibration, then converting that level to a 4-20 mA signal. Because balance components tend to dominate the vibration spectrum when viewed in displacement units, the PC420D sensor is able to track the balance component of machines, one of the most sought after parameters.
Integrating this signal into an existing PLC, DCS or SCADA system simplifies real time health monitoring. Vibration, which was formerly considered too complex, can now be trended in easily understood units of mils or millimeters of displacement.
Measuring displacement can unmask hidden problems and provide data in easy to understand measurement units. Instead of converting to displacement after the measurement is taken, a common practice in diagnostic vibration monitoring systems which can introduce errors known as "ski slopes", the PC420D sensor integrates at the measurement point for the cleanest vibration data.
A wide variety of PC420 Series sensors are available to suit individual monitoring needs. The 4-20 mA output can be proportional to acceleration or velocity, with the full scale value being equal to the root-mean-square (rms), peak, or Wilcoxon's exclusive true peak level. With the addition of this new product, Wilcoxon now offers reliability engineers the ability to monitor the peak to peak displacement of their machinery.
Click here for complete specifications
A white paper about displacement monitoring is available from the Wilcoxon Research knowledge desk at https://wilcoxon.com/wp-content/uploads/2016/07/Measuring-displacement-using-accelerometers-1.pdf.
To learn more about Wilcoxon Research, Inc., or the pledge of Total Lower Cost of Ownership, visit www.wilcoxon.com, call 800-WILCOXON, or email wilcoxon@meggitt.com.