OEM Shipping Cases
Product Announcement from Wilson Case, Inc.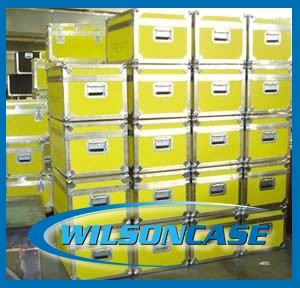 Wilson Case works with original equipment manufacturers daily. We have proven to OEM customers that our quality, price, service and benefits are incomparable. We provide equipment cases for every industry from antennas to simulators—scales to computers.
Our design engineers use solid modeling technology to communicate easily with product engineers. This software allows us to design equipment shipping cases to precisely fit even the most complicated units. We can provide a 3D virtual prototype of the equipment case during the quoting phase as well as a physical prototype when requirements warrant it.
After the design is finalized and the order is in house our production team sees it through completion. Our CNC router takes precision one step further, ensuring the same cut in the same place every time. Making your equipment shipping cases identical and giving you a consistent look for your product.
Wilson Case OEM Program Details for Equipment Shipping Cases:
Application & Design: Our design pros will work with your engineering and marketing departments to determine your equipment case objectives. We will discuss your requirements for case appearance and usability. We can design anything that you require a shipping case to be.Company Branding - Have your company logo on the case with a logo plate, stencil or silkscreen.

Quote Design & Prototyping:
Our design engineers use SolidWorks software for equipment case design. SolidWorks allows us to design with precision. It also allows us to provide 3D virtual prototypes, so that there are no surprises when your case arrives. A physical prototype is also provided when the requirement warrants it.

Take advantage of lowest prices with our quantity price breaks. Ordering larger quanities means you save a lot of money.

Warehousing & Just-In-Time Delivery:
We will warehouse your equipment cases for FREE in our facilities and release them at your request. We will also drop ship at no extra charge. No minimum monthly release amounts are required—You tell us what to ship and when. It is our goal to make this process hassle free.

We term these orders as "blanket orders". In most cases all blanket orders should be completely shipped out of our facility within six months. However, we have learned that sometimes OEM customers will have urgent needs and other times things slow down. We understand that not all requirements are the same and that they can change often. The Wilson Case team will work with you to meet your individual needs.

Service:
The team at Wilson Case works hard to serve OEM accounts, our solid relationships with many OEM customers are testimony to this. We will work hard to meet your OEM equipment case needs as well. Some of the services that are provided to OEM customers are on-time delivery, frequent updates on current stock levels, printed price lists and upon request a webpage for quick reference of your equipment case history for easy purchasing.
At Wilson Case - You are never limited to standard or stock shipping cases. Wilson Case can design and manufacture a shipping case to meet any requirement. With over 30 years in the shipping case world—our staff has the knowledge, skill and technology needed to design shipping cases to protect the most delicate equipment.
Wilson Case also offers FREE custom shipping case design and quotes for requirements not found in their standard case line. Contact Wilson Case today for a free quote on a case that is just right for you.
About Wilson Case:
View our Online Store:
---