TagAlong Shipping Cases
Product Announcement from Wilson Case, Inc.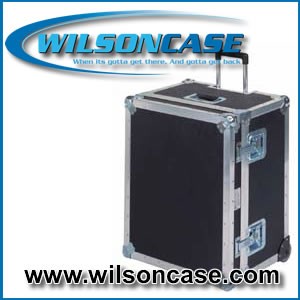 One easy way to move your gear!
Wilson Case's TagAlong shipping cases have all the standard ATA-300 shipping case features needed to endure shipping realities. This case style is a great choice if you are on the move. Quickly roll thru busy airports, convention and training centers with ease.
Wilson Case's TagAlongs are so popular that they are stocked for quick shipment. Shop their TagAlong stock cases now in their online store. All of Wilson Case's TagAlong shipping cases are backed by Wilson's Limited Lifetime Warranty!
If Wilson Case doesn't have what you need in stock, they will design it for you. It's FREE and simple! Request a free custom quote!
With Wilson Case, you're not limited to stock cases - just to your imagination.
Wilson Case also offers FREE custom shipping case design and quotes for requirements not found in their standard Athletic case line.
About Wilson Case:
Wilson Case can design and manufacture a shipping case to meet any requirement. With over 30 years in the shipping case world—our staff has the knowledge, skill and technology needed to design shipping cases to protect the most delicate equipment.
View our Online Store:
---