3.5-Inch Industrial E3900 SBC + Dual Ethernet
Featured Product from WinSystems, Inc.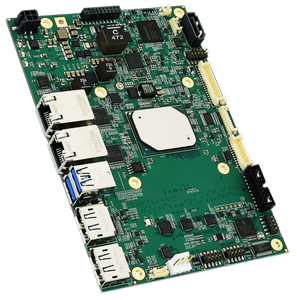 WinSystems' SBC35-C427 is a small form factor single board computer (SBC) featuring the latest generation Intel Apollo Lake-I SOC processor. Its small size, low power, rugged design, and extended operating temperature range make it a great fit for rugged embedded systems in the industrial control, transportation, energy, and industrial IoT markets.
This full-featured SBC supports three independent video displays (2x DisplayPort and LVDS video), dual Ethernet, two USB3.0 ports, four USB 2.0 ports, 8 general purpose I/O (GPIO) lines, two channels Analog-to-Digital Converter (ADC), stereo audio, and a watchdog timer.
The WinSystems SBC35-C427 single board computer features a Dual or Quad-Core processor and up to 8GB of socketed SODIMM ECC DDR3 SDRAM. The SBC includes an mSATA socket and optional soldered down eMMC device for solid state storage of an operating systems (OS) and applications.
Additionally, the board supports an external SATA device. Additionally, the board has expansion capabilities via an M.2 connector ( E-Key), Mini-PCIe socket (with mSATA support) and WinSystems Modular I/O interface.
The SBC35-C427 supports Linux, Windows® 10, DOS, and other x86-compatible real-time operating systems. Drivers are available from the WinSystems website.
FEATURES
Performance for Industrial IoT Edge Computing
Intel Apollo Lake-I E3900 Processor (Dual or Quad core)
Up to 8 GB DDR3-L with ECC System RAM
Up to 2.0GHZ Clock Rate
Time-Coordinated Computing
10+ Year Availability
Rugged Design for Demanding Environments
-40°C to +85°C Operating Temperature Range
3.5" Small Form Factor
Shock and Vibration Tested
Wide Range Power Input (9 - 50 V DC)
Graphics for Digital Signage
Supports up to 3 Independent Displays with 4K Resolution
Dual DisplayPort
LVDS with backlight and touch control
Connectivity and I/O for Embedded Data Acquisition
Dual Ethernet (Gigabit)
2x USB 3.0 and 4x USB 2.0
8x General Purpose Input/Output (GPIO)
2 channel Analog-to-Digital (ADC)
3x Serial Ports
HD Audio Storage
eMMC • SATA
mSATA
Expansion and Configuration Options for Semi-Custom Solutions
Mini PCI Express
M.2 (E-Key)
WinSystems' Modular I/O80