IO60 Data Acquisition Module
Featured Product from WinSystems, Inc.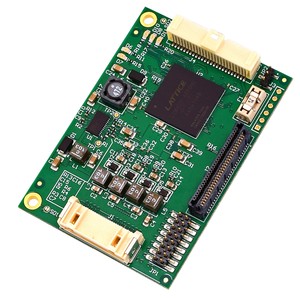 The IO60-M410 is a data acquisition module for embedded systems with IO60 expansion featuring 8 ADC (Analog-to-Digital Converter) channels, 4 DAC (Digital-to-Analog Converter) channels, and 24 GPIO (General Purpose Input-Output) tolerant to 30 V DC. Activity LEDs indicate device communication and DAC fault.
The analog inputs utilize the Linear Technology LTC1859 16-bit Analog-to-Digital Converter. The device provides eight single-ended inputs, four differential inputs, or a combination of both. All channels are fault protected to +/-25V. The input spans can be software configured for 0V to 5V, 0V to 10V, +/-5V, +/- 10V. Jumper selectable onboard resistors also provide an easy method to transform 4 mA to 20 mA current loop inputs to 1V to 5V signals for conversion.
The analog outputs on the IO60-M410 are provided by an Analog Devices AD5755 16-bit Digital-to-Analog Converter. It provides four software configurable single-ended voltage outputs 0V to 5V, 0V to 10V, +/-5V, +/-10V in either single-ended or differential operating modes. The outputs are also configurable for 4 mA to 20 mA current loop through onboard current-voltage conversion.
A Lattice MACH XO2 is configured for the 24 lines of General Purpose Input-Outputs. Each bit of each port is implemented as a bi-directional tristate driver. Each bit of each port can also be configured and enabled to detect both rising and/or falling edge events and generate a system interrupt. Level converters provide support up to 30 VDC, when used with offboard reference voltage. Each GPIO is line is capable of sinking 12mA or sourcing 5mA.
The IO60-M410 is a versatile embedded data acquisition module that can be configured and customized for specific requirements. It is a great addition to WinSystems single board computers feature IO60 expansion in Industrial IoT, energy, COTS, industrial control and medical.
FEATURES
Reliable Data Acquisition for the Industrial IoT

Analog Input
− 8 channel, 16-bit Analog to Digital Conversion (ADC)
− Sample rate to 100ksps
− Single-ended or differential
− 0 to 5V, 0 to 10V, +/-5V, +/-10V
− Jumper selectable conversion for 4 mA to 20 mA current loop
Analog Output
− 4 channel, 16-bit Digital to Analog Conversion (DAC)
− 0 to 5V, 0 to 10V, +/-5V, +/-10V
− Unipolar and bipolar operation
− Single-ended or differential operation
− 4 mA to 20 mA current loop output
24 channel (GPIO) General Purpose Input-Output
− Level converters provide support up to 30 VDC
− Each line programmable for input, output, or event sense
− Current: 12 mA sink, 5 mA source dependent on the user provided voltage
− Programmable interrupts
Rugged Design for Demanding Environments
-40°C to +85°C Operating Temperature Range
IO60 Small Form Factor • Shock and Vibration Tested
Wide Range Power Input
Expansion Options
For WinSystems single board computers with IO60
Please contact an Application Engineer for spe