Isolated CAN Bus Peripheral Module
Featured Product from WinSystems, Inc.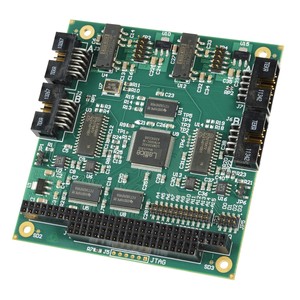 WinSystems' PCM-CAN-2-ISO is a PC/104-compliant, isolated Controller Area Network (CAN Bus) peripheral module. This board uses two NXP SJA-1000 CAN controller ICs with advanced features for use in automotive and industrial applications.
The PCM-CAN-2-ISO card employs high-speed isolated couplers, transformer isolated power supplies, combinatorial logic, and bus interfaces for both CAN controllers.
CAN is a serial, asynchronous, multi-master communication protocol for connecting electronic control modules, sensors and actuators in automotive and industrial applications. The signal is encoded in a non-return-to-zero (NRZ) pattern and is sensed by all nodes. The CAN bus physical interface is similar to RS-485 two-wire, half-duplex communications.
On CAN bus systems, signal integrity is achieved by matching the impedance of the transmission line and thereby minimizing reflections. A jumper selectable, onboard 120 ohm resistor is provided for this purpose.
Features
Two NXP SJA-1000 CAN Bus controllers
Compliant with CAN Bus specifications 2.0A (11-bit ID) and 2.0B (29-bit ID)
Transfer rates up to 1 Mbps
Channel-to-channel and channel-to-system isolation

Isolation on the CAN Bus data connection up to 1000V
On-board isolated 1W power supply for interface

Jumper selectable termination resistors
Jumper selectable IRQ and I/O base address
Software drivers available for Linux and Windows
Industrial -40° to +85°C operational temperature