NANO-ITX Industrial Single Board Computer Series
Featured Product from WinSystems, Inc.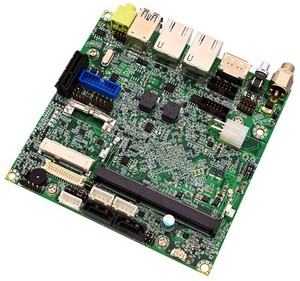 WinSystems announced its new ITX-N-3800 industrial single board computer (SBC) series. This industrial single-board computer (SBC) in a NANO-ITX form factor measures only 4.27 inches by 4.27 inches (120mmx120mm) and has dual 10/100/1000 Ethernet ports, four USB 3.0 host ports, DisplayPort, VGA and LVDS video outputs. The ITX-N-3800 also includes PCIe and Mini-PCIe expansion slots.
This addition to the WinSystems product portfolio provides a low-cost solution for industrial Internet of Things (IIoT) applications, including industrial control and medical. The value of the ITX-N-3800 lies in its small form factor, industrial temperature operation, onboard I/O ports and expansion options.
OVERVIEW
The ITX-N-3800 product series represents an extension of WinSystems' expertise in industrial embedded computing solutions through the addition of a well-known quality small form factor. This solution provides a complete system in an SBC that can be configured for different application requirements where size and weight are limited.
The ITX-N-3800 includes the most commonly used functionality for IIoT applications, along with support for Human Machine Interfaces (HMI). Additionally, the ITX-N-3800 offers a wide industrial temperature operating range and expansion options not typically available in competing products.
FEATURES
The ITX-N-3800 is a full-featured SBC with onboard I/O that uses the Intel Atom E3800 Atom™ (formerly Bay Trail) processor, which is available in single, dual and quad cores. The E3800 is a system-on-chip (SoC) specifically designed for embedded systems. The ITX-N-3800 also has a 204-pin SODIMM that supports up to 8GB of DDR3-LV System RAM and two high-speed SATA storage interfaces.
Additional interfaces include dual Gigabit Ethernet ports, four USB 3.0 ports, two USB 2.0 ports, one serial RS-232/422/485 serial channel, one audio port, eight general purpose input-output (GPIO) lines and a watchdog timer. PCIe and half-size MiniPCIe slots provide additional expansion capability. The ITX-N-3800 also includes the Intel low-power Gen7 graphics engine, which supports the simultaneous display of CRT/DisplayPort/LVDS video.
The ITX-N-3800 uses less than 10 watts of power and is rated for fanless operation in temperatures ranging from -40°C to +80°C. It supports Linux, Windows® 10 desktop, Windows 10 IoT and other x86-compatible real-time operating systems. WinSystems also provides drivers for the ITX-N-3800 from its website. The ITX-N-3800 is FCC and CE certified, and is ideal for industrial IoT, medical, communications and digital signage applications.