PC/104-Plus DC/DC Power Supply
Featured Product from WinSystems, Inc.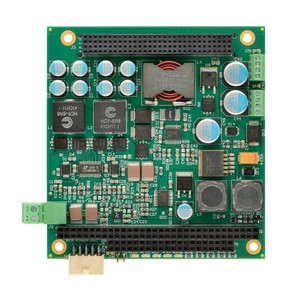 WinSystems' PPM-DC-ATX-P is a PC/104-Plus module that produces five regulated DC voltages from a common DC input. It features a very wide voltage input range from 10 to 50 volts. This allows the unit to operate with 12, 24, or 48 volt battery or distributed DC power systems.
This high-efficiency power supply design supports ATX compatible signals so it can use power management modes. ATX mode support Power On/Off , Power Good, and +5VSB to allow software controlled shutdown and sleep modes.
Each output is short circuit protected and current limited. A minimum load is not needed to bring the supply into regulation.
When power is applied to the board, five LEDs will illuminate providing a visual status that power is available for the +5V, +3.3V, ±12V, and +5V standby. If one of these LEDs is not lit or is pulsing ON and OFF, then the respective supply voltage is not in regulation. A pulsating LED is an indication that the respective converter is in current limit.
There is also a connector for an ON/OFF switch for remote shutdown of the system. However, the +5VSB source will continue to be active.
Features
Wide input range: 10V to 50 VDC
Voltage output: +5V @ 10A, +3.3V @ 10A, +12V @ 3A, -12V @ 800 mA, and +5VSB @ 2A
PWR_OK, PS_ON#, and +5VSB supported for power management and sleep modes
-40 to +85°C operation
No fan or heat sink required
No minimum load required for regulation
Outputs with short circuit, overload and overvoltage protection
Screw terminals for accessory power connection
High efficiency design
Fast transient response