Tiny Industrial Computer w/Rugged Enclosure
Featured Product from WinSystems, Inc.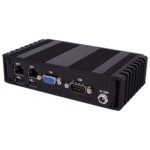 WINSYSTEMS' SYS-ITX-P-3800 Series embedded computers pack an impressive feature set into a small form factor Pico-ITX design. The SBC's are based on the Intel E3800 processor family which provides CPU and graphics performance. The SYS-ITX-P-3800 is a perfect choice for applications requiring low power and Intel performance in a small form factor package with industrial connectors and I/O.
Learn more about features, download product manual and data sheet.