Gear pump for high process pressure
Featured Product from Witte Pumps & Technology GmbH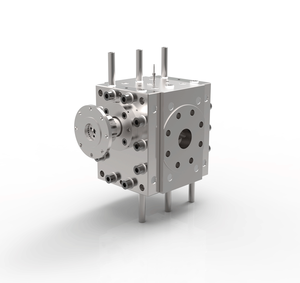 The reliable transfer and booster gear pump for polymer processing
BOOSTER gear pumps are used in the polymerisation process, to boost the pressure of medium to high viscosity media. They transport pre-polymers and polymers, e.g. PET, PBT, PS, ABS any many more, very gently heating is either by way of heat transfer oil or steam.
The core components like shafts and friction bearings originate from the WITTE building block system.
Application Examples:
Polymers
PET · PBT · PA · PC · PS · SAN · ABS · HIPS · PP · POM · Biopolymers
Technical Specification:
Viscosity
up to 40000 Pas
Temperature
up to 350°C (660°F)
Inlet pressure
Vacuum up to max. 120 bar (1740 psig)
Differential Pressure
Up to 250 bar (3225 psig)
The values listed are maximum values and must not coincide under certain circumstances.
Pump Sizes
From 22/22 (4.7 cm3/U - 10 kg/h) up to 280/280 (12000 cm3/U - 30000 kg/h).