POLY - Discharge Gear Pump
Featured Product from Witte Pumps & Technology GmbH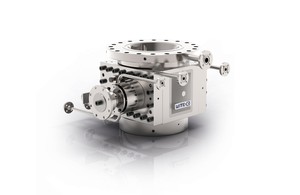 The reliable transfer and booster gear pump for polymer processing
BOOSTER gear pumps are used in the polymerisation process, to boost the pressure of medium to high viscosity media. They transport pre-polymers and polymers, e.g. PET, PBT, PS, ABS any many more, very gently Heating is either by way of heat transfer oil or steam.
The core components like shafts and friction bearings originate from the WITTE building block system.
Technical Features
Housing
Heat resistant carbon steel, e.g. 1.6582 · rust-free stainless steel 1.4313 · with optional coating
Gears
Tool steel · nitrated steel · special steel · with optional surface coating · helical gearing · herringbone gearing (for extremely low-pulsation conveyance)
Friction Bearings
Tool steel · NiAg (nickel-silver) · Al-bronze · special materials · with optional surface coating
Shaft Seal
Viscoseal · stuffing box · (Vacuum viscoseal)
Heating Systems
Heat transfer oil · steam
Operating Parameters
Viscosity
up to 40000 Pas
Temperature
up to 350°C (660°F)
Inlet pressure
Vacuum up to max. 120 bar (1740 psig)
Differential Pressure
Up to 250 bar (3225 psig)
The values listed are maximum values and must not coincide under certain circumstances.
Pump Sizes
From 22/22 (4.7 cm3/U - 10 kg/h) up to 280/280 (12000 cm3/U - 30000 kg/h).
Application Examples
Polymers
PET · PBT · PA · PC · PS · SAN · ABS · HIPS · PP · POM · Biopolymers
Viscoseal (VS)
The viscoseal is the standard seal for WITTE EXTRU and BOOSTER pumps. This is a dynamic seal for high viscosities and suction pressures. It can be provided with heating or cooling. The dynamic seal is suitable for high pressures and temperatures. Its range of use is limited by the suction pressure and the viscosity of the medium being conveyed (at least 10 Pas). The viscosity can be increased by an additional cooling system if necessary.
max. temperature: 450°C (850°F)
Viscosity: 10000 to 40000000 mPas (cP)
Stuffing Box
The stuffing box is a simple (static) seal for WITTE gear pumps. It can be provided with buffering if so desired. The range of application is similar to that of the viscoseal. The standard material used for the packing rings is made of expanded pure graphite with structural textile fibes. But it goes without saying, that other materials are also available.
max. temperature: 350°C (660 °F)
Viscosity: up to 40000000 mPas (cP)