GaN on SiC - increased range and reliability
Featured Product from Wolfspeed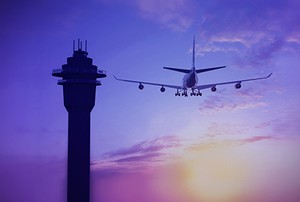 Aerospace & Defense - Elevate the performance of your RF systems with the industry's most reliable, compact, and efficient RF power devices.
RF flies farther with Wolfspeed GaN on SiC.
RF technology advancements are moving wireless systems forward. It's the backbone of telecommunications and radar for navigation and safety systems across commercial and military aviation, air traffic control, weather services, aircraft-to-satellite communications, space exploration and more. The silicon and gallium arsenide semiconductors that enabled early progress in these fields cannot match the wider bandwidth, higher power density, and higher efficiency delivered by Wolfspeed's GaN on SiC components.
For increased range and reliability with reduced consumption, keep us on your radar.
Radar and communications systems reach farther and perform longer when designed around our field-tested, high power, wide band-gap devices. How much longer? With an average FIT rate of 8.6 fails per billion hours, Wolfspeed's GaN on SiC HEMTs deliver a median lifetime of 6800 years.