TEC CONTROLLED LASERS
Featured Product from World Star Tech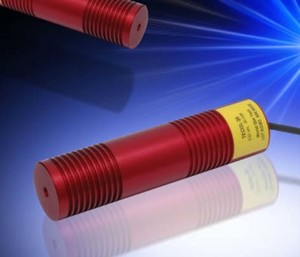 TEC CONTROLLED BLUE VIOLET LASERS
World Star Technologies offers thermo electrically cooled blue laser modules in 405nm, 440nm, 473nm and 488nm wavelengths. The Blue Laser Modules are fully self-contained with integrated temperature controller (TEC), laser driver circuit, surface polished glass asherical lens optics and a laser diode in a compact package. Precise temperature control with the TEC results in excellent power and wavelength stability, low noise and long lifetime. Other unique properties include fine adjustable focus, clean beam, and low divergence. These blue lasers have applications in the field of bio-sciences for excitation of a wide range of fluorescence probes. These lasers are also used in imaging, light scattering and other bio-instrumentation processes.

All blue laser modules are available with additional optics to circularize the beam. The lasers can also be pigtailed to a fiber and modulation options are also available. All The TEC lasers includes a wall mount adaptor for plug and play operation.
Please contact us for customization options.
Features:
Integrated Temperature Controller

Low RMS Noise

Excellent Wavelength Stability

High Power Stability
Applications:
Bioanalytical

Imaging

Light Scattering

Measurement
YOUR LASER SOLUTION PROVIDER
World Star Tech designs and manufactures state of the art laser diode modules and laser systems for biomedical, instrumentation, sensor, machine vision and industrial applications.
An ISO 9001:2008 company, we are totally committed to leading edge technology and outstanding customer service.
Over 20 years of laser system design with optical, mechanical, electronics, and software design experience makes World Star Tech an ideal partner to solve complex laser design problems.
Our strong background and expertise in laser systems makes partner customers' product advanced and competetive in the market which creates a win-win situation.
We work closely with our customers to offer innovative custom solutions to enable new applications.