World's Best Impact Sockets from Wright Tool
Product Announcement from Wright Tool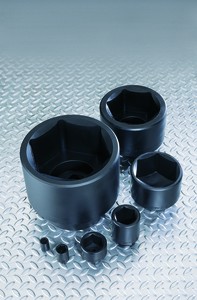 Wright Tool makes the world's best impact sockets and attachments for almost every size and drive and we proudly make them in the USA. When you need tools you can trust, turn to Wright Tool.
• Patented WrightDrive® design
• SAE and Metric
• Impact Attachments
• Drive Ranges: 3/8" to 3-1/2", with openings from 5/16" to 9-1/8" SAE and 6mm to 255mm metric
Wright Tool makes impact sockets & attachments for almost every size and drive for which we make a hand socket (because no hand socket is recommended for impact gun use).
Wright tools are stronger and tougher to withstand the repeated loads produced by impact guns, which are often higher than what can be produced by hand. Wright Impact Sockets are always black, not only to distinguish them from hand sockets, which are usually chrome-plated, but also to avoid chipping, which could occur if a plated socket is used. Each Wright impact socket is designed for its drive size because the drive size limits the torque that may be applied.
Proudly Made in the USA
---