World's Best Hand Tools for Power Gen, Utilities
Product Announcement from Wright Tool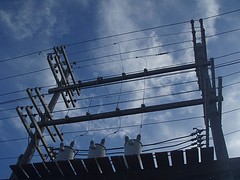 World's Best Professional Hand Tools for Utility Market
Wright Tool offers specialized hand tools for the Utilities industry and can custom-design hand tools to meet end users' demanding needs that are common to the utility market.
Some of the highlights of our line:
Wright Tool lineman's ratchets, (part no. 3433 and part no. 4433) have a raised cap that allows linemen to easily change the turning direction while wearing heavy-insulated gloves.
Wright adapter, part no. 4422, is a 7/16" male hex drive chuck on one end and a 1/2" male square drive on another. It is used with hydraulic guns and allow for quick exchange of socket sizes used by linemen. Because of its high-strength steel construction from a special metallurgy process, the Wright Tool model 4422 adapter works on the toughest of applications.
Wright Tool's 12-point ratcheting box wrenches are available in common lineman size configurations.
For tight areas, the Wright Tool 1/2" drive compact ratchet (part no. 4401) has an 8-3/4" short handle, which features a rubber nitrile handle. The short handle length allows for tight-space operations, and the rubber handle provides "bump protection" and cushion grip for the lineman.
Wright Tool also offers custom tool building capabilities for customers that are unable to find a specific hand tool that they need.
---