Municipal Sludge Dryer
Featured Product from Wyssmont Company, Inc.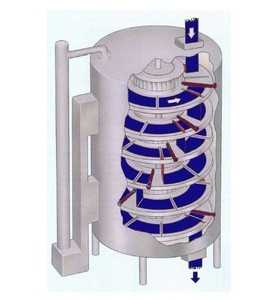 The Best Municipal Sludge Dryer
Custom Cost Effective Municipal Sludge Dryer
The WYSE-DRYER™ consists of a stack of slowly rotating circular trays. Material is fed onto the top shelves. After one revolution the material is wiped onto the next lower shelves where it is mixed, leveled, and then after one revolution, is wiped to the next shelves where the operation is repeated. The trays are contained in an enclosure in which heated air or gas is circulated by internal fans. Wyse Dryer Brochure
The Wyssmont TURBO-DRYER® thermal processor has proven to be the best dryerreactor to successfully torrefy wood chips. Torrefaction of biomass is one of the most promising bioenergy technologies because it transforms a bulky biomass into a high quality product that can be readily co-fired with coal, without the need to change anything within an existing coal fired power plant.
Even, thorough, and rapid drying
Uniform inside temperature or zoned temperature regions. The closest product temperature control of any dryer possible. Can give the lowest residual moisture of any dryer.
Sludge Dryers Field Demonstrated Performance
Usual Features
Reliable unattended operation with all product on Spec
Safe operation

without inert gas blanket
Odorless operation on activated sludge
Dustless Operation (no dust to surroundings)
Meets criteria for making

"Class A"

Bio-solids
Automatically adjusts to varying feed rates
Lowest operating cost
High on-stream time, often runs for years without shutdown for any reason
Low maintenance: usually less than 1% of the capital cost per year
High thermal efficiency
Lowest horsepower demand of any continuous dryer
Easy start-up (usually 1-2 days)
Smallest foot print
Accurate scale up
Precise temperature control
Cooling section on the bottom available
Outdoor or Indoor Installation
Why the Wyssmont TURBO-Dryer is the best
Wyssmont Company designs, manufactures and services its high quality, reliable TURBO-DRYER® worldwide to the chemical, specialty chemical, pharmaceutical, mineral, food and food additive industries. Wyssmont manufactures TURBO-DRYER®, continuous tray dryers, crossflows, feeders, lumpbreakers, solvent recovery dryers, multistages, laboratories and calciners.
Wyssmont's Test lab requires only a few pounds of wet material per test and the results provide direct scale up to any production capacity. TURBO-DRYER® are available for Rent to confirm test results and provide larger quantities of dried product for evaluation or test markets.